WE LOVE WORKING TOGETHER TO HELP PEOPLE MOVE WELL AND FEEL AWESOME
Exercise for Rehabilitation & Health was born out of a mission to create impact on Australia's health landscape through the development and application of a range of preventative and health management services that all people from all walks of life could access.
Nicole French founded the practice in 2006 and over the last decade, our group has grown to into a progressive health practice filled with passionate Exercise Physiologists and Physiotherapists that work together to achieve the best outcomes for our patients and improve the health of our local community.
We work alongside a number of non for profit organisations such as Diabetes Victoria, Girls Uniform Agenda and Parents Voice so we can contribute to developing better food and physical activity environments for children an adults. For more of our advocacy work check out our latest news and blog pages. We have also been in partnership with the Diabetes Victoria Life! Program for over a decade helping people to lose weight long term and prevent Diabetes; our programs have been among the most successful in Victoria since the program became available in 2007.
We appear regularly on television and radio to discuss new evidence and approaches for weight management, back pain and childhood obesity and are often consulted to comment in publications such as the Age and Herald Sun.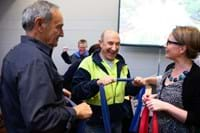 Within the practice our approach to care recognises that the best outcomes are achieved when our team creates a partnership with our patients and their medical/health professionals to improve real-life outcomes through the latest evidence-based methods.
Our practitioners are well positioned to help with a wide variety of conditions with additional expertise in complex and persistent pain, workplace injury, exercise for cancer and Women's health.
Our values serve as a guide to all our interactions with the people we work with in our community.
Honestly we care

We go above and beyond

We are world class

We find a better way
Our team members are recognised experts in their field, chosen for their ability, diligence in their approach and pride in providing the highest quality clinical care.
We have equipped our clinic with a purpose-built gym, separate waiting areas (including tropical fish tank) and consulting suites to offer state of the art clinical care.
ORGANISATIONS WE WORK ALONGSIDE
Think you've seen us on the news? Likelihood is that you have! We are actively involved in children's health initiatives, diabetes prevention as well designing the technology to bring health care to people in rural and remote areas. We are achieving impact not only through our direct work but through partnering with key stakeholder organisations where we can together achieve great health outcomes. Find out more about our advocacy and media work here